The Ontario province is known for its majestic scenery and picture-perfect small towns. Those who want great views and peaceful days will certainly find a suitable vacation spot here.
And what goes hand in hand with a good vacation? An equally good book!
If reading is your passion, you'll have the chance to visit dreamy independent bookstores with a bountiful choice of titles.
These seemingly small-scale bookstores can open portals to many different worlds, from old and used to newest editions, fiction or non-fiction books.
We found the most charming little spots in Ontario where you can rediscover the joy of reading.
Stick with this article to find out the best bookstores you can visit for your next cottaging vacation.
The Owl Pen Book Shop, Bracebridge
Address: 58 Manitoba St, Bracebridge, ON P1L 1S1, Canada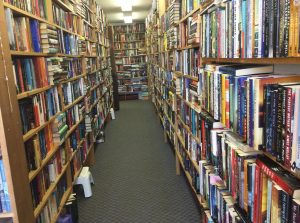 The Owl Pen Book Shop is a warm and welcoming little bookstore located in the heart of Ontario Cottage Country. The bookstore specializes in used books; however, their genre coverage is incredibly diverse.
On its shelves, you can find everything from classic literature and history books to travel, art, sports, and all in between.
The Own Pen Book Shop is located in Bracebridge, 58 Manitoba Street. If you want to stay at the famous Muskoka Cottage, the Owl Pen is close by and easily reachable.
The bookstore is a family business, and you can really feel the coziness and homey vibes when exploring the two floors of endless shelves. The bottom floor holds some impressive titles. However, the real gems – first editions and rare collectibles – are displayed on the upper floor.
The Owl Pen was established in 1992 in a different location, but the family moved the business to Bracebridge in the 90s.
Manticore Books, Orillia
Address: 03 Mississaga St E, Orillia, ON L3V 1V6, Canada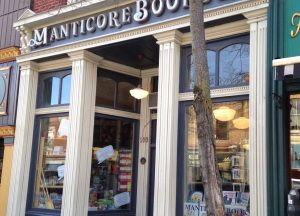 The Manticore Books bookshop is a must-visit spot if you're interested in a sophisticated atmosphere and vast selection of authors. The shop is located in downtown Orillia, at 103 Mississaga St E.
As the largest independent Heritage bookstore north of Toronto, this bookshop is a prime destination for many avid readers, not just vacationers nearby.
You can order books from the official Manticore Books website or visit them during open hours (Mon-Fri 10 AM to 6 PM, Saturday 10 AM to 5 PM).
Apart from the local history books and authors, you can also find numerous bestsellers on its shelves. In addition, Manticore Books often organizes author events and book promotions, making it a great spot to connect with Orillia's creative community.
Parry Sound Books, Parry Sound
Address: The Beatty Building, 26 James St, Parry Sound, ON P2A 1T5, Canada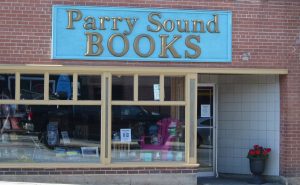 Parry Sound Books is another independent bookstore with a backstory that will warm your heart. The family business was first established in 1988 as an addition to the owner's home.
Five years later, the bookshop was moved to downtown Parry Sound and expanded its selection of books and its customer reach. Today, Parry Sound Books is still at the same place – in the William Beatty Building at 26 James St.
The book collection is beyond diverse, supplied by world-famous and local Canadian writers. The shop also features a children's area with excellent title picks for children and young adults, plus interesting puzzles and toys.
Thus, it's no surprise that many have rated Parry Sound Books as the best cultural spot in the town to visit with your family on vacation.
Books & Company, Picton
Address: 289 Picton Main St, Picton, ON K0K 2T0, Canada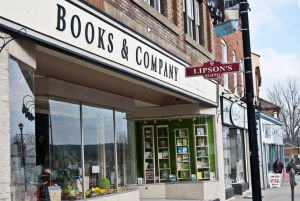 If you are visiting Picton or just vacationing in the area, come to 289 Main St. You'll find a cozy yet spacious independent bookstore where you can spend your afternoons with peace of mind.
Books & Company has a wide array of new, used, and antiquarian books written by authors from all over the globe. Located in the center of Prince Edward County, the place is constantly browsed by tourists and locals.
Apart from the impressive book selection, the bookstore features an indoor cafe and children's area where you can relax for a few hours with your new favorite title.
Reader's Haven Book Store, Tobermory
Address: 10 Bay St, Tobermory, ON N0H 2R0, Canada
Reader's Haven Book Store is a small-town shop with big-city options. The bookstore primarily opened in 2006 as a part of the Crowsnest Pub and Deli. Later in 2011, the owner moved the shop to 10 Bay St., in the head of Little Tub Harbor.
The cafe windows offer a majestic view of the harbor that will make you feel like the main character of a chic European movie. You can enjoy a cup of coffee with your favorite book any day from April to October and get away from the city noise.
Its superb location, paired with the stunning collection of books for all ages, has made Raider's Heaven a tough spot to miss. Colouring books, magazines, gifts, board games, and even lottery tickets will make your time at the shop enjoyable, whether it rains or shines.
Moreover, if your vacation activities include hiking, you can buy a membership to the Bruce Trail club and explore the area further. Reader's Haven Book Store also sells maps, postcards, and other Bruce souvenirs.
The Bookshelf, Guelph
Address: 41 Quebec St, Guelph, ON N1H 2T1, Canada
The Bookshelf is a bookstore with a rich history dating back to 1973. What started as a small town business turned into a trendy tourist spot in Guelph. Although the shop changed locations several times, today, you can easily find it at 41 Quebec St.
Its versatile book selection is not the only reason you should visit this place. The Bookshelf can be described as a bookstore, cafe, cinema, and bar, ready to cover all your needs as soon as you set foot inside.
You can browse their titles, have a cup of coffee or something stronger, order dinner, and even watch a movie all in one place. With its unique approach to service, the Bookshelf is determined to create a personal haven for each customer.
Those who live in the area or intend frequent visits to the bookshop can purchase a Bookshelf membership for $15 per year. This entitles members to numerous discounts and special offers.
Because who can say no to books, drinks, food, and cinema?